December, 2005
2005.12.31 — Alfred, Ohio. Steve and Mary Ellen should be landing in Boston as I write this. Welcome back to the frigid North!
My favorite postings of 2005
Looking forward to 2006
Politics: Bush is in trouble. Where there is smoke there is fire. Think of the string of smoke signals we have endured this past year.
His failed social security reforms. Mind you, I'd prefer private accounts. However, his plan appeared flawed to me.
Terri Schiavo–Bush flew to D.C. from Texas on a Sunday to sign a bill to prolong her life. It wasn't like he didn't know about this case for years before hand.
The nomination and appointment of Bolton to the U.N.
The Amnesty International report saying that we are running secret prisons and denial by the Bush administration.
The leak of CIA operative Valerie Plame by the Bush administration.
President Bush stated that Intelligent Design should be taught in school.
The bungled federal relief efforts resulting from Hurricane Katrina.
His poor choices for Supreme Court vacancies.
A report in Britain's Daily Mirror newspaper alleging that US President George Bush planned to bomb Aljazeera (located in Quatar, a country friendly to U.S. interests).
John Murtha called for the immediate withdrawal of US troops from Iraq.
The discovery of abused and tortured Iraqi prisoners.
The discovery of secret CIA prisons overseas.
2005.12.30 — Mason, Ohio. Dad and I ate breakfast near downtown Cincinnati and then drove around a little. We ended up visiting Dennis at work for a few minutes. Dennis told me where Art and Mildred used to live so we drove out there afterwards. The old building that Dad learned his trade as a machinist is still standing as is Art and Mildred's house. We pulled off the road and just reminisced for a while about the old days. It did us both good.
This evening after I got home, Nick wanted to play me a game of Chinese Chess (also known as Elephant Chess or Xiang Qi). It is a fabulous game played by more people than Western or International Chess but is relatively unknown in these parts. The last time I played was probably with Vinh Than Vu (an old college roommate of mine) nearly 35 years ago. It brought back a lot of good memories. Nick was taking a lot of my pieces and thought he had me but I remembered a little bit of the strategy. One move… he never saw it coming. :)
2005.12.29 — Cincinnati, Ohio. Dennis, Dad, and I had a good evening last night. Today Dad and I talked about everything under the sun. We watched a really old movie about Lum and Abner and the Jot em Down Store. It was great! It was surprising to me that Dad knew all about these two and I had never heard of them. I did a Google search on them and found that they were cultural icons of long ago. Lum and Abner were famous radio personalities for twenty five years. Check them out!
Andy Stacey wrote and told me that he now has a blog. You can find it here: http://pstacey4132.blogspot.com/. It sounds like he needs a little encouragement. If you know him, take a moment and write him a line.
2005.12.28 — Alfred, Ohio. Heading for Cincinnati to visit with my Dad. Will return in a day or two.
2005.12.27 — Alfred, Ohio. Public Notice: I intend to use a small Flash widget on this site next year. I am hoping to have the widget constructed and implemented before the end of January. You may need to download and install the Flash player (926k) to view everything as it is intended to be seen. The current version is 8,0,22,0. You can verify the version you have installed by visiting the Adobe About Flash page.
2005.12.26 — Alfred, Ohio. This has been a rather lazy day. Jeanie, Nick, and Kate are watching movies. I'm just reading and writing.
Aaron Freeman, a black Jewish commentator on National Public Radio, wrote an article that appeared in yesterday's local newspaper commenting about the recent illegal FBI spying on U.S. citizens. He believes that honest dissent with the state is a healthy thing. He ended the article with this thought: …If the FBI is there filming, we'll all smile and wave for their cameras. But to save the Bureau time and effort: my name is Aaron Freeman, two "a's", two "e's." Please print it out in a 72-point font. That King George might read it without his spectacles.
2005.12.25 — Alfred, Ohio. Happy Birthday Steve!
Merry Christmas to all!
Joe, Angie, Nick, Kate, Jeanie, and I exchanged gifts, enjoyed our Christmas dinner, and played poker into the night. It was very nice.
2005.12.24 — Alfred, Ohio. Woke up Christmas Eve to an e-mail that Steve had sent seven hours earlier. Jeanie and I went to Parkersburg so I could finish my shopping (yes, I really do shop on Christmas Eve). On the way home near Alfred Steve called. They are having a good time. He had sent another e-mail with pictures from Maui an hour earlier. Today, I bet that they will see whales. Here are his pictures.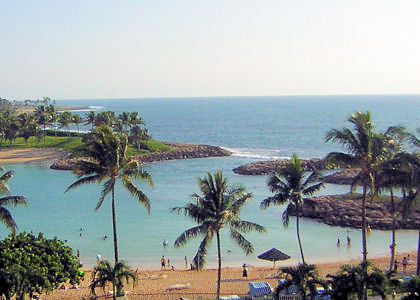 View from Steve and Mary Ellen's room in Honolulu
Steve managed to find an Internet connection somehow and got this to me. Too bad about the lousy weather (70-80 degrees and bright sun) they are having . They are in Maui now. You can click the image above to get a larger uncropped version of this photo.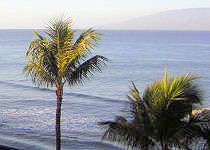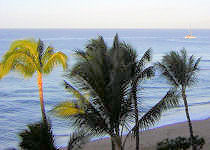 View from Steve and Mary Ellen's room on Maui
"These are from two minutes ago (12:52 p.m. ET). Notice the sun is not all the way up yet. It is looking out from our hotel room on Maui. We went to Pearl Harbor yesterday. Today we are doing nothing. I hope it is warm in Ohio too. (ha… hahahahaha… ha)"— Steve
2005.12.22 — Middleport, Ohio. We went to see the play that Joe and Angie were in last night. It was held at a Church in Middleport near the ball fields and pool. Give it up for Vince (applause)! He has some talent. I appreciate the effort it took just to get all the lines right. The surprise to me was in his first line of a song he sang. He started out with a beautiful voice and then backed off a little to play his part. Wow! A diamond in the rough perhaps.
The characters were type cast very well. The older brother also had a boatload of lines and he pulled it off convincingly. The grinch was good but the guitar just a tad loud for my taste. Joe and Angie made a great Mary and Joseph. Nick even got a stand up part as a wise guy before it was over. Erin was cast as an angel? Once you understood the character of the angel it all made sense to me. Mallory played the older sister very well. Charlie Brown was a great casting as was Tiny Tim. I particularly enjoyed when Charlie Brown was dancing.
Honolulu, Hawaii–Aloha! There was a message from Steve on our answering machine when we got home. They landed while we watched the play. Watch for "Life on an airplane" by Steve and Mary Ellen. They flew from Boston to Chicago and then on to Honolulu. I'm happy for them and am sure they will enjoy their stay in Hawaii.
2005.12.21 — Alfred, Ohio. A public service announcement: today at 1:35 a.m. is the Winter Solstice. This message was provided to those needing to calibrate their sundials in mind.
2005.12.20 — Alfred, Ohio. All digital TV by February 19, 2009? I've heard that date mentioned as a possibility. It matters not to me but suppose that anyone who manufactures analog ones or has them in stock or on the shelves would have a big interest in getting rid of them pretty soon.
2005.12.19 — Alfred, Ohio. Last night we played cards with Jeanie's Mom and Dad. I won big on the last hand! It was good to spend some time with them.
2005.12.18 — Alfred, Ohio. Happy Anniversary Steve and Mary Ellen! The first year of marriage is full of adjustments and surprises. I trust that most have been pleasant. Years from now you will look back at this happy time and see that many of your fondest memories will have formed during the early years of your marriage. It is also a time of adjustment for your friends and family.
Daughter-in-law is a term I've grown quite accustomed to by now and will admit that I enjoy being a father-in-law. Mary Ellen, Jeanie and I think of you as one of ours by now.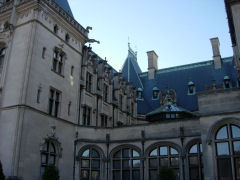 Asheville, North Carolina. Dennis is on vacation and sent this in recently. In 1895 George Vanderbilt built a world famous mansion in Asheville, North Carolina known as Biltmore House and Gardens Estates. Dennis had taken several pictures inside the house before being told, no cameras. This is one he took from outside the place.
2005.12.17 — Alfred, Ohio. We have had a cat wandering around the house for a couple of days in the evenings. This morning it showed up by 7:00 a.m. just outside our door… hungry. I was sipping my first cup of coffee and getting ready to make my breakfast when my conscience interrupted my day. How could I think of eating when I know that this critter was suffering? How could I think of feeding it knowing that it would think it had found a home if I did. A moral quandary to start my day. Ugh!
I broke down and gave the cat some milk. Jeanie laughed and jumped at the opportunity to tease me about being an old softie. Yes, it is true. I don't care to see other creatures suffer needlessly, particularly around Christmas time. Perhaps it will catch a mouse or two before it goes to the pound.
2005.12.16 — Alfred, Ohio. Happy birthday Doug!
Joe and Angie stopped by tonight for dinner. We discussed our C-8 results and other blood anomalies. Angie has taken the lead in wanting to change her eating habits into something more healthy. I'm right there with her… after the first of the year. Joe won't have much of a choice except what he can sneak while at work. He will likely get carrot cake for his birthday this year! Jeanie already eats a healthy diet so it should be easy on her. Don't come to our house the first week of January expecting anything tasty. By week two, it should be safe to visit.
Nick and I spent a good bit of the day talking about a variety of topics. One subject that came up was the story I wrote about the scissors recently. It was a big hit with him. Seeing his reaction to my tale made some of the effort that goes into making this site worthwhile. Given the time of year, I'm thinking that on Dec 31, I will have a special edition posting the top story, photo, etc… of the year. The scissors story has been nominated. Do you have others that you would care to nominate?
2005.12.15 — Alfred, Ohio. Nick was back from Morehead when I got home. Jeanie had brought dinner from DP Dough. Good to see you Nick!
2005.12.13 — Alfred, Ohio. Here is a bit of computer trivia for your enjoyment that I picked up at work today…
IPv6
IPv6 is the nomenclature being used to represent the next version of the IP protocol. The table below shows the number of unique IP addresses our current IP protocol (IPv4) has and how many the next generation will have. The number is so large that a name had to be invented for it. Dodecillion is the new cardinal name given to a number with eleven commas in it.
| version | unique IP addresses |
| --- | --- |
| IPv4 | 4,294,967,296 |
| IPv6 | 340,282,366,920,938,463,374,607,431,768,211,456 |

Images such as this will begin appearing on websites that can be addressed via IPv6. The most current listing of sites that I know of is located here: 6bone. As of today, there are 161 in the world that are on the list. Scroll through the list of servers and you quickly realize that the rest of the world is fully engaged in this. I also noticed that the Windows operating system represents only 62.8 percent of all visitors to the site.
If you are interested in learning more or want to know what your current IP number is, visit IPv6.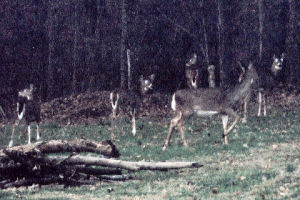 2005.12.11 — Alfred, Ohio. We have deer in these parts. Lots of them. It is not at all uncommon to pull in the driveway and have several grazing in our yard or garden. Deer sightings used to be very rare and special for me. I'm sure we had them where I grew up but don't recall ever seeing one until moving to Athens. Even then it was a couple of years before I saw one on a lonely dirt road one day. It was so startled that it jumped over a barbed wire fence and ran away from me as quickly as it could. It seems that over the years they have lost their fear of man. Today, they hold their ground and tend to wait for us to move on. The same can be said of wild turkey in these parts. They are pleasant to see and cause little very damage to our property (other than vehicles).
2005.12.10 — Columbus, Ohio. Jeanie and I went to Columbus today for a little Christmas shopping. It made for a long day but was pretty enjoyable. Jeanie mentioned that she wasn't going to buy anything at Wal-Mart this year for Christmas. That is fine with me. I don't hate them but will have to admit that since they announced plans to open in Athens we have seen the closing of J.C. Penny, K-Mart, Wolohan Lumber, Ames, and Fashion Bug. There are probably others that didn't come to mind but in a small town such as Athens, that list alone is a considerable loss. It seems unlikely to me that each of these stores would have built here to begin with unless there was a viable market.
My copies of Ubuntu arrived today. It is a free Linux distribution. Canonical Ltd, a global organization headquartered in the Isle of Man, provided funding to send them to me. The five CD's appear to have originated in The Netherlands. I tried the "Live CD" first as it is supposed to boot from the CD similar to the way Knoppix works. It worked nice and I'm giving real thought to installing it. However… shortly afterwards, I noticed having a few problems with Windows. In particular, I'm having network activity when I'm not expecting any and Kaspersky says that I now have several files infected with a virus win32.tenga.a (also known as win32.licum). I think that it is a coincidence but am not certain. Anything free from the Isle of Man sounds suspect. I'll keep you posted on this one.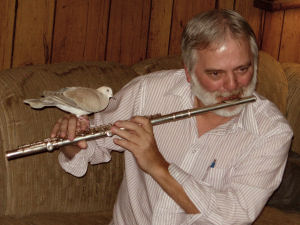 2005.12.07 — Alfred, Ohio. Dennis and Samwise are birdsitting a dove named Ozzie for a friend. Dennis was playing his flute and Ozzie flew up and landed on his fingers. Best of all, the bird stayed put while Dennis played on.

2005.12.04 — Cincinnati, Ohio. Go Bengals! 9-3, what a season! The playoffs? the superbowl? Hey, wait a minute… I'm not even a fan of the Bengals. In fact, I don't particularly care for football to begin with. Who cares? I must have got caught up in the moment with my two recent visits to Cincinnati.
Dad, Dennis, Samwise, and I went to breakfast and had a nice chat about J.R.R. Tolkein, The Hobbit, and The Lord of the Rings. It is always a treat for me to see my family.
The rain was deceptively slippery at I-275 and I-71 when I came into town Saturday night. There must have been a dozen cars off the road in every conceivable position with fire trucks, ambulances, and police cars everywhere. Traffic backed up and I came to a stop on the bridge over I-71. The moment we started moving again, I was sliding on ice. Two minutes earlier I was holding back a whole stream of traffic cruising at 65 m.p.h. Someone was looking over me.
2005.12.03 — Alfred, Ohio. We keep an old pair of scissors in a drawer. They are so dull that they can be used for anything. Everyone knows to put them back so we can quickly locate them next time we need them and not ruin a good pair. They have become the Swiss army knife of home repairs around here.
They disappeared sometime around the week of Thanksgiving. Jeanie has been searching though the house high and low. We realized that all of our children were in to visit us over Thanksgiving and so it was likely the case that one of them misplaced them. I encouraged that idea. Oh well, buy another pair I thought. Nope, Jeanie started calling our children. One by one she gave them the third degree. Each denied any involvement with them. I mentioned that Angie and Mary Ellen were also present. She has given them the third degree as well. No one is safe or immune from her questions. Her favorite TV shows? CSI and Law and Order.
When Jeanie talked with Steve, I could imagine him turning me in. Something like "Yes, I used them but gave them back to Dad." He must have been intimidated by Mom and missed his opportunity get me. About then, it dawned on me that I may be the culprit. She still had Nick to question and I began silently praying that he had picked them up. She called a couple of times yesterday and left messages for him to call. He did… after midnight last night. Nope, nothing doing. He didn't turn me in either. Joe would probably fall on the sword before turning me in. I mentioned to Jeanie how my private thoughts were going. We laughed that no one tried to pin it on me. I explained that I was only hoping that whenever they show up that it was not near a project I was associated with.
That got her on my track. "What did you do Thanksgiving week?" Mind you, it is after midnight. We retrace our memories and I recall cutting the string on the water heater when we got home and throwing something on the ground. "It was a knife" said Jeanie "and I picked it up for you." That got her thinking and she realized that the furnace room was one place she hadn't thought to check. "Maybe you used them to cut some of the packing material" she said. I'm starting to feel the heat… and then, I remember cutting some insulation that goes over the water pipes. Busted! "Do you want to get up and look?" "No, they will be still be in there come morning." To her credit, Jeanie let it go and we went to sleep.
Epilog: this morning when I got up, she waved them in front of me, never said a word, and put them back in the drawer where they belong. I'm heading out of town for a couple of days. Think I'll visit my Dad in Cincinnati.
2005.12.01 — Alfred, Ohio. Credit Russell for coming up with this:
New Rule: Only two measurements are needed for jeans – waistline and leg length. I don't want jeans that are relaxed fit, or tight fit, or low waist, or high waist or big cuffs, or other ridiculous decisions. If I wanted to make that many decisions when buying clothes – I'd buy a dress.